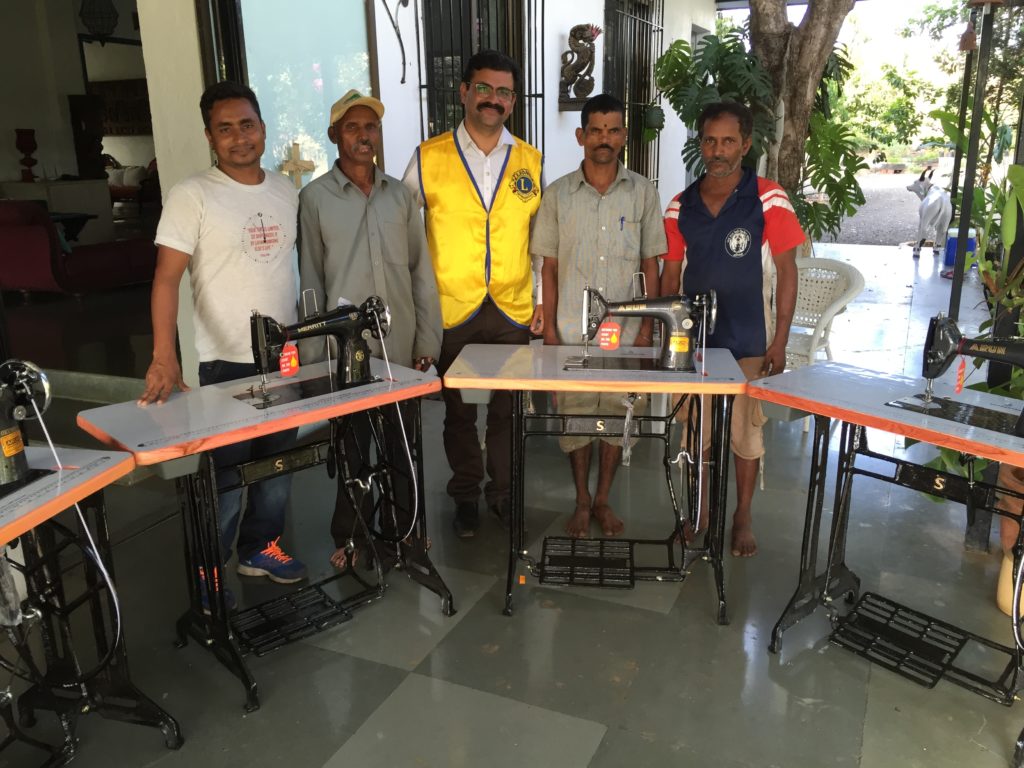 Ramanand Sagar Foundation
Ramanand Sagar Foundation (RSF) is a non-profit company registered in Mumbai, India. In a deep desire to take forward the ideals and vision of the film-maker, writer visionary and humanist – Late Dr. Ramanand Sagar, RSF was set up by the heirs of "Papaji" (commonly used name of Ramanand Sagar used by friends and family). Spear-headed by his fourth son, Mr. Prem Sagar and his family, RSF wishes to take the vision and mission of "Papaji" of a new, vibrant, confident India, that is able to learn from its past leaving out what is not relevant in it, that can teach the world something making it a better place.
Papaji witnessed the death of his first wife and first born son at a tender age of 18. When he was 30 years old, he suffered from tuberculosis, and had a close shave with death. He lost all fear after experiencing near-death situations. He developed "Sakshi Bhav" or witness consciousness, at an early age. This was the main philosophy of his life. To be in a constant state of meditation all the time. To be objective and subjective at the same time. Forever seeped in consciousness. 
RSF is involved in the education and welfare of various communities and villages near the Hatnoli Village (8 kms from Karjat) in the Raigad District, situated in between Mumbai and Pune.
Ramanand Sagar –  An Epic Life – Barsaat to Ramayan
The recently released biography of Late Dr. Ramanand Sagar by Westend publications, a branch of Amazon India is written by his son, Mr. Prem Sagar titled, "An Epic Life – Ramanand Sagar, From Barasaat to Ramayan". The poignant book contains the personal memoirs written by a devoted son for his loving and ideal father. It details the life of Ramanand Bedi (birth name Chandramouli) from his birth in a small hamlet called Asal-Guruke near Lahore in Undivided India in the year 1917 to his journey as a human being and a writer as he was destined to make the Ramayana series at the ripe age of 70 years for which he achieved worldwide fame and recognition. It also traces back his ancestry to the early 17th century to a wealthy Punjabi Khastriya "Chopra" family from Peshawar (current day Pakistan) who migrated to the valleys of Kashmir.
If you would like to read more or purchase a copy of the book, you can click on the link below. 
Meet the Team
Prem Sagar
Chairman and Managing Director – has had a long spanning career in the film and television industry when he started to assist his father after completing his education from FTII (Film and television institute of India) in Pune. He was the cinematographer for many successful Bollywood movies like Lalkar, Charas and Hamrahi etc. 
His foray in television was with Vikram Aur Betaal in the year 1985, which he directed and produced. This show became a forerunner for the Ramayan series in 1987. Post the success of Ramayan, Prem was the marketing director for Sagar Arts and travelled the entire globe to market the grand success of the show. Ramayan played in more than 200 countries and was dubbed in more than 40 languages. Prem also produced some successful shows on GEC channels like, Mahima Shani Dev Ki on NDTV Imagine and Jay Bajrang Bali on Sahara One recently. He was involved since the last 4 years on the book on his father. He started research on the book in the year 2000. He has been collecting memorabilia and voice recordings of his father foreseeing that one day someone would write a book on him. 
RSF is the brainchild of Prem, and he is visionary behind the foundation, as his way to give back to society.
Neelam Sagar
Neelam, has over 40 years of experience in horticulture, the art of bonsai, flower arrangement and landscaping. She studied at the prestigious Ikebana Ohara Chapter, Mumbai till her 2nd masters, (this is an intensive 7-year course under her Guru LalitaKalmbi). After making several field trips to Japan to study landscaping and bonsai, Neelam did her Higher studies in the field of Bonsai under Jyoti and Nikunj Parekh and then under Sujay Shah. More recently she does Landscaping of commercial, residential and farm projects.
She set up her Nursery in 2005, Tooth Mountain Nursery and under that she has completed many prestigious projects including Yash Raj Studio and the residences of several film stars and producers like Aditya Chopra, Rani Mukherjee, Priyanka Chopra, Kangana Ranawat, Preity Zinta, Parineeta Chopra etc. In the restaurant space she has worked on all the The Bar Stock Exchanges, WTF's, Socials and Sassy Spoon. She has projects all over India. Through her intense study and skill, she has managed to grow orchids and high end variety like ferns on dry woodin Karjat climatic conditions. It all started from a humble nursery, and she always says that the plants have given her so much.
All the plants and greenery one sees around Tooth Mountain is her doing. She is also responsible for the delicious home cooked meals, all of which are her recipes and the extreme cleanliness and overall management of the place due to her various skills she honed as a house-wife.
Shiv Sagar
Having studied in the prestigious Swiss hotel management school, Les Roches, Shiv worked in many leading hotels of the world including the Renaissance in Zurich and ski resorts of Crans Montana plus the Leela in Mumbai, before completing his Bachelors of Science in Hospitality Management with Suma Cum Lade.
On returning to India, Shiv successfully turned around a loss making 50-room family hotel in Kullu-Manali called Sagar Resort. After travelling all over India for sales and marketing and managing the operations in Manali for a period of 5 years, Shiv branched into television production in 2008 with his first mythological tv series "MahimaShani Dev Ki" on NDTV Imagine, going on to doing many tv shows and a 3-d movie under the banner of Sagar Arts.
He revived his interest in the field of hospitality again when he began Tooth Mountain Farms in 2015. His expertise in sales and marketing, and passion for the business has resulted in a new concept of a "boutique farm stay", par excellence at a driving distance from Mumbai and Pune. His former training in hospitality and experience on the field are responsible for the high standards of customer service which one finds at TMF. Shiv continues to do television production while balancing his life long passion in the hospitality industry. 
Shiv was involved in the research of the book on Papaji. He visited Kashmir and met many relatives, actors, techicians, co-writers, family members who had lived and worked with Ramanand Sagar, which resulted in hours of transcripts, which became the base of this book. He is involved in the operations and marketing of RSF, having had a lot of experience in the past in the non-profit sector, which started at a young age when he would teach and educate the children of the maids and servants in their household. Today those kids are all in high profile jobs. He also founded an NGO with his friends called PHS, which privately taught children in BMC run schools by providing better teachers and syllabus